Are you in the planning process for a big event? Why not let Hog Roast Byfleet take care of the catering? With two decades in the industry, we know exactly what it takes to give your guests an experience they'll never forget. When guests arrive at your event, they're likely to be peckish – and we aim to give them a first-class dining experience that satisfies their cravings. Enter the traditional hog roast – it's versatile, easy to serve and what's more, delectably tasty so it's sure to be a hit with your guests.
We have worked on our technique for many years to achieve that juicy, flavoursome result that has given us a reputation as one of the best hog roasters in the UK. That's why we are proud to have been asked to cater for some of the biggest and best festivals and markets in the country, but we are just as proud to attend private functions and add a special touch to your big day.
We Only Source Quality, Fresh Local Produce In Byfleet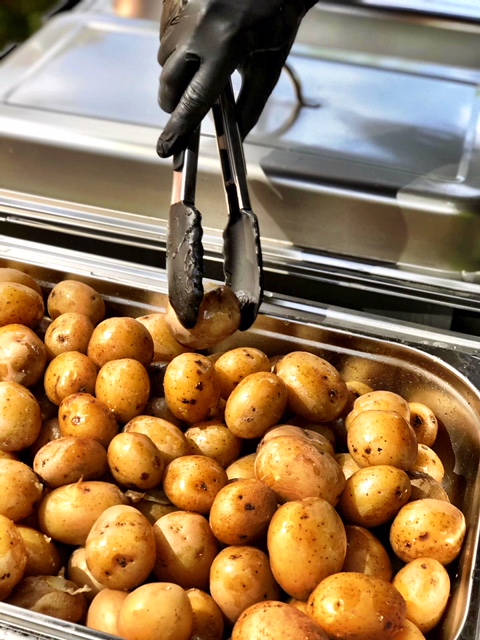 All of Hog Roast Byfleet's ingredients are sourced from the finest local farmers so that the food is fresh on the day. We prepare the food on-site in the hours leading up to the start time and ensure that the first dish is served on the deadline. In total, the hog roasting process takes approximately 6 hours to achieve the desired taste and texture that's sure to tickle the taste buds. However, we also serve a variety of vegan, vegetarian and gluten-free dishes for those who have special dietary requirements.
When booking Hog Roast Byfleet, you also have the option of different catering styles dependent on the ambiance of the event. Weddings and corporate occasions would be better suited to a formal dining experience consisting of a sit-down meal with waiting staff. However, if you're planning a small garden party with a few friends and family, we can whip up a buffet or tasty hog rolls drizzled with apple sauce as a lite bite for your guests.
Want to find out more about what Hog Roast Byfleet can offer? Please get in touch with our team today.