Although the overwhelming majority of our customers love our bespoke hog and spit roast catered events, there are an ever increasing amount of our clients in and around the Surrey area who love taking advantage of our Surrey hog roast machine hire service. This option allows our clients the opportunity to try a Leatherhead hog roast machine for themselves and is a great way of understanding just why we love it so much. We had a large task on our hands when we entered the hog and spit roasting trade over 20 years ago.
The first and most major obstacle to overcome was the lack of machine technology available in the marketplace for our needs as bespoke caterers. To overcome this, we had to embark upon our own design and manufacturing project, here in Britain. By running our Leatherhead hog roast catering company parallel with our in-house design and manufacturing operations as regards our hog roasting machines, it has given us the ability to create highly effective machines very quickly. Today, our large range of hog and spit roasting machines (which you can buy from us complete with various accessory packages) are the market leaders by a highly considerable margin. This is due to their high performance, ease of use and absolute reliability. There is simply no other manufacturer offering anything close.
Perfect Solution For Any Catering Budget
Due to our confidence in our Spitting Pig machines, we feel that the hire option is just another way any of our customers can get involved in the hog roasting process themselves. Through our love of the hog and spit roast itself, the very idea that we are spreading the experience of hog roasting around is one we particularly enjoy. When you hire a hog roasting machine from us, you can benefit in various ways as regards your event. First of all, if you hire a machine for a weekend you can use it as often as you like as and when you please. On top of this, you can gain from the privacy of having no outside caterers at your event should that necessity arise. Allowing you to get to grips with one of the finest methods of meat roasting available the hire option is understandably fast becoming a favourite of our vast and diverse client base. Our larger and more popular hog roasting machine as regards the hire option, is the Titan Hog Roasting Machine.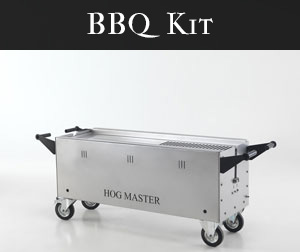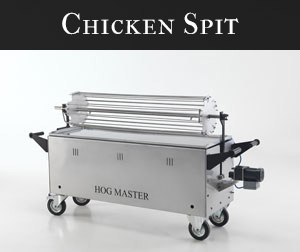 This fully stainless steel machine is designed for sheer catering capability, coupled with exceptional ease of use. Great for cooking pigs up to 65 kilograms in weight, this machine also makes light work of roasting potatoes in the juicy pork basting fat which runs clear into the tray as your hog cooks. Simply gorgeous! On top of this, as with all of our hog and spit roasting machines, the machine is so exceptionally easy to use that you just literally place the pig in the tray, switch the machine on and sit back. You and your guests can continually observe the roasting hog through the glass viewing panel ensuring that your guests feel engaged with the cooking and roasting process at all times. These machines have four sturdy wheels and pneumatic tyres – allowing for effortless portability for the whole time you have the machine with you. Great for feeding any number of people up to around 300 people (if you use boned and rolled pork joints as well as a 65 kilo pig), these machines are an effortless way of making sumptuous food at any event or occasion.
We also offer our smaller machine in our hire option portfolio. Known as our Professional Hog Roast Machine, these machines are exceptionally good at hog roasting for smaller numbers of people – by utilising pigs up to 55 kilograms in weight. Although the Titan Hog Roast Machine is the last word in lightweight stainless steel machine technology, the Professional is a compact way of serving delightful food to lesser numbers of people. Ideal for small gatherings, these machines highlight our flexibility when it comes to providing our customers with the right product for them. When you book a Hog Roast Machine Hire with us, we will deliver the machine to you at your event location as this is included in the cost. Also included in the cost is a gas bottle capable of roasting in excess of one pig at your chosen location. After the hire period has expired, we will collect the hog roasting machine from you at your location and take it away. If the machine has not been cleaned, there will however be a nominal cleaning fee attached. With a complete and comprehensive service like our hire option, more customers than ever are getting involved in the hog and spit roasting process which is the finest and most taste-inspiring way to roast meat.