The Best Hog Roasts In Godalming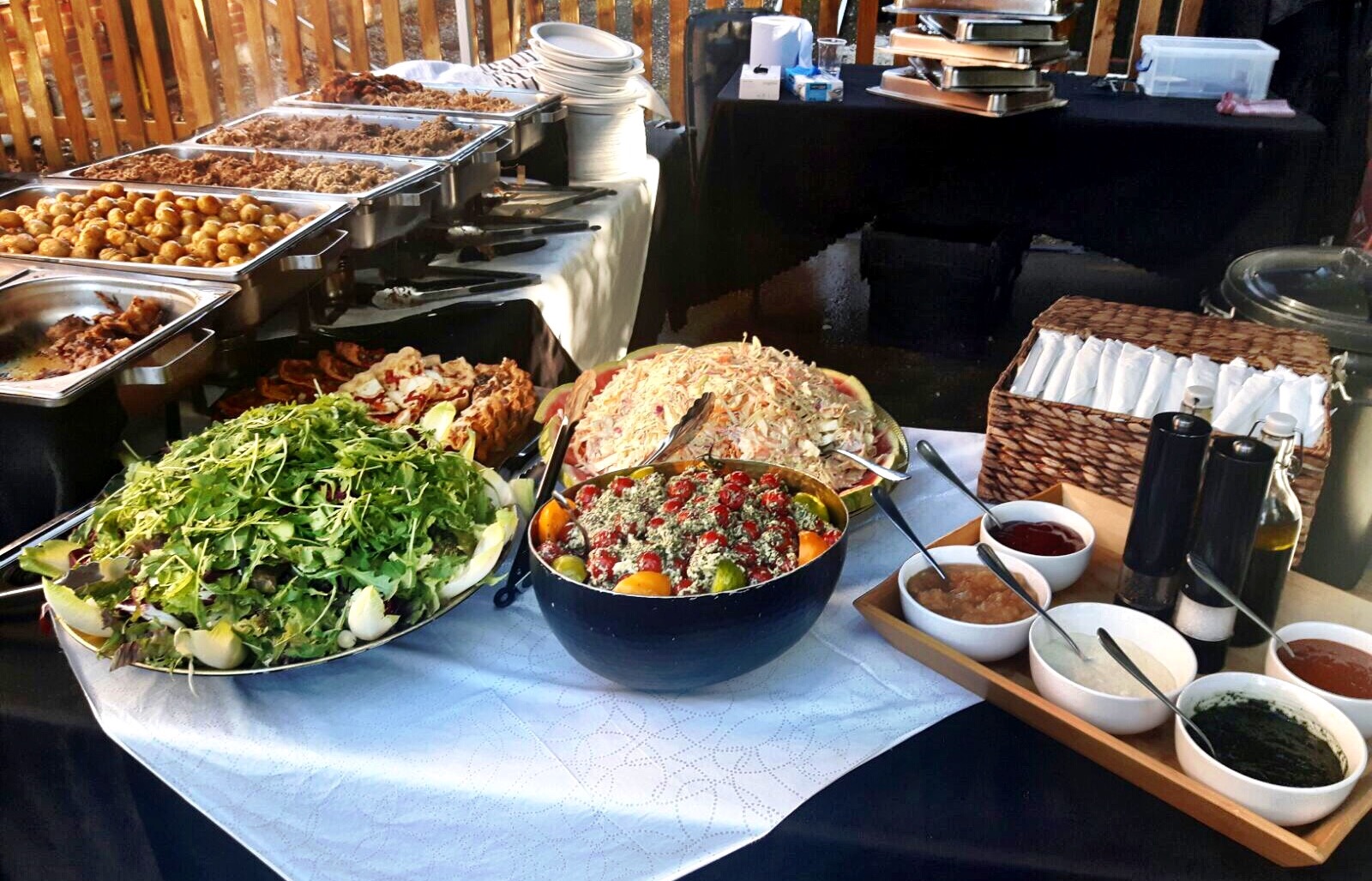 If you're thinking of throwing a party in Godalming, or have something to celebrate, then hog-roasting is the best way to entertain your guests. Hog roast Godalming catering is delicious, hassle free and low cost. Not only that, but having the meat roasting in the machines for your guests to watch creates a centre piece for any party. As well as filling the room with mouth-watering smells, of course. Godalming, the history market town, it is the perfect place to build up that appetite. After you've spent the day wandering the shops, exploring the markets and refreshing yourself in the coffee shops, the perfect way to end the day is with hog roast hire Godalming. Our customers love us to cater their special events, be it a wedding, corporate event or party. We cater with passion and can pitch up our hog roasting machines indoors for special events, where the aromas of the meats will get those taste-buds watering, or outdoors on those summer days where you want to laze in the sun and eat a feast.
Hog roast Godalming is a hassle free answer to feeding any number of hungry bellies. We offer a variety of menus ranging from the elaborate to the more simple food, and our advisors would love to talk to you about what we can offer. We our particular proud of our hog roast, and our customers love it, but if you'd prefer a variety we can also roast a range of different meats including chicken, beef, lamb and turkey. We provide yummy vegetarian options and all of the tasty side dishes, such as apple sauce, fresh bread and salad options. We have a pig sandwich menu, for the quieter occasion such as a charity fundraiser, to a whole hog roast, perfect to show off at your business launch or wedding. If you want to be adventurous, we offer hog roasting machines to hire. The machines are easy to use and even if you've never cooked before, you can cook a spit-roast to perfection with equipment hired from us. They are designed to cook the meat evenly, catching the juices to keep it hot and succulent for longer, leaving you with more time to relax and enjoy your special occasion. All of our machines are high quality and certified. It's a lower cost option to hiring the full catering service and is fun to show off to your guests when you roast the meats yourself. If you're feeling even more adventurous, you can even buy the machines direct from us. We'd love to see you get as passionate about hog roasting as we are!
The Best Hog Roasts In Godalming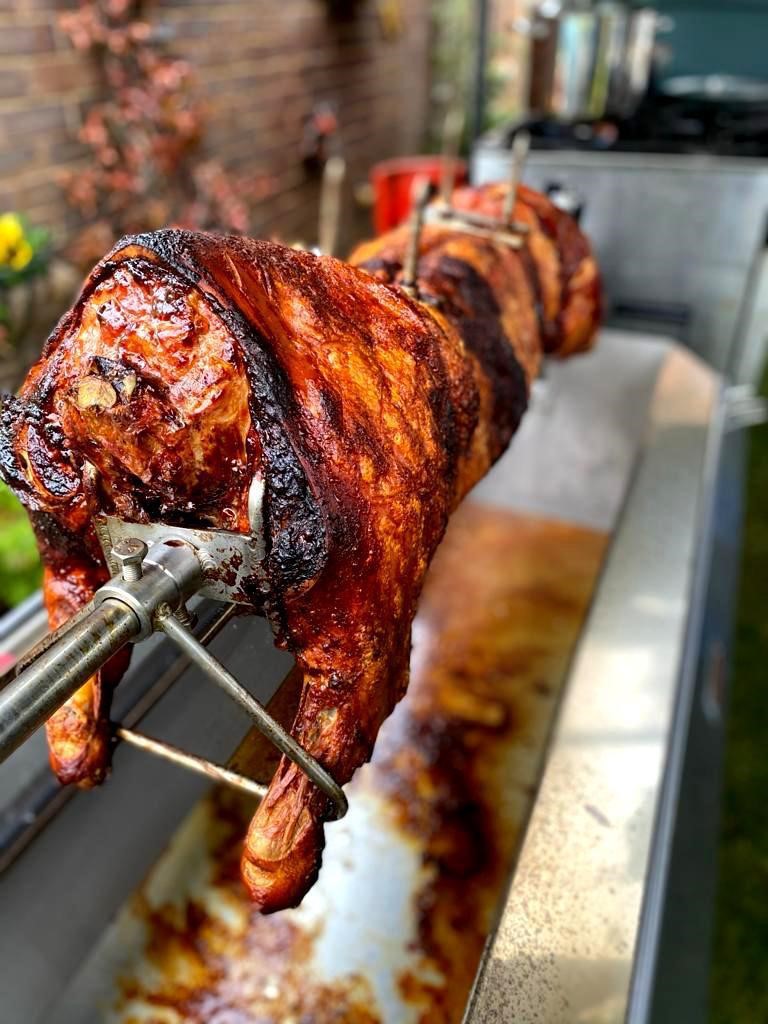 We cater for many events, each one different to the last. Football presentations invariably bring in small numbers of around 30-50 with the most recent one being no different and 35 guests turning up to the county league champion's presentation. Our traditional hog roast was the menu of choice; a feast fit for champions! We roasted the hog as the guests celebrated away with plenty of drink and games as well as a quiz with the winners getting a lovely bottle of bubbly. When we announced that we were going to carve the hog, the footballers crowded round the serving table waiting for their serving of pig in a bun with some lovely crispy crackling, stuffing and/or apple sauce. As expected, everyone was in great spirits and the meal went down a treat for these excellent athletes which is exactly what we expected.
Hog roast Godalming is one of the towns favourite, and not only because it's fun to watch and tastes delicious, but it's completely hassle free. We can provide the spit-roast chefs, the equipment, the meats, all the food, and even the friendly staff if you choose. Allowing you more time to sit back and spend time with your loved ones, so that they remember the party for the feast and fun rather than not getting to talk to the busy host! Something our customers ask us regularly in Godalming is whether we can adapt the menus we offer and make customised menus and the answer is we absolutely can. That's one of the great things about hog roast Godalming, is that it's hugely flexible and you can build your menu around your event and what you think your guests would prefer.
We are happy to cater for all, including vegetarians and anyone with religious restrictions and our food is always of the standard that will be the best your guests have ever tasted. Even if you decide to hire one of our machines and cater for yourself, they are of such a quality that you will be able to provide a delicious feast, no matter what the preferences of your guests are. Hog roast hire Godalming is one of the best ways to create a memorable event for any occasion, and they are even available year round. So whether you want to entertain people in your back garden, for a personal low-key do, or to host a large event in the beautiful history town of Godalming for all to see, hog roast Godalming is the answer for your catering needs. Just the smell of the food with make your guests smile.