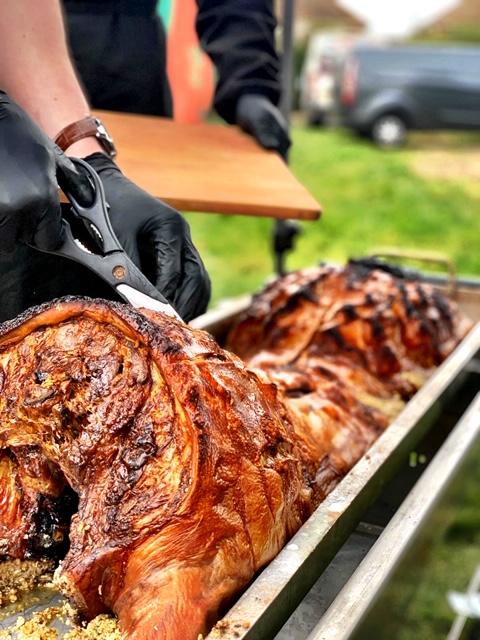 Horley is a town full of people that know what quality looks and taste like which is where we come in, being professional caterers for so many years means we have the knowledge and know-how of what it takes to ensure that your event goes to plan. Many are opposed to the idea of enterprises blooming within handsome locations though it undoubtedly lends variety. In a sense it revives the more historical sites, one of which is in the park; a mansion dating back to 1348 hundreds of years old.
A hog roast hire Horley is the chance for everybody to indulge in something that is at once old-fashioned, novel, exciting and memorable. With the local golf club and college there are various communities that account for a great age range. Good food is one of the universes great commonalities, and as such you are sure to be the envy of all your neighbours when the wonderful aroma of choice pork tickles their nostrils. There is a nice selection of places to eat here in Horley, though one of a hog roasts most endearing tributes is that there it is near impossible to replicate its unabashed command of the senses. You could go for a three course meal in the top Michelin star restaurant, but for all those clever subtleties that the dishes may yield, 100-200lbs of roasted hog is a most deadly opponent when the criteria is simply impressing people.
It's always good to know your audience. Specifically their geographical palate, if you will. Inconspicuous bakeries and butchers are a top source of inspiration as preferences and techniques are shared over the counter. We're a business of course, and money is what keeps our blood pumping, but learning how we measure up to your most prized eating experiences is what moves our spirit.
Hearty food is one of the most important ingredients for the recreation of the warrior, and having fed some of the local rugby club we've had the pleasure of being told that nothing quite hits the spot like a generously loaded pork n' apple sauce sandwich or several cutlets of lamb. When using only their hands to eat rugby players look right at home getting in touch with their primordial side!
Wherever we go, the physical equipment with which we use to cook is greatly lauded during its assembly, but as a hog roast hire Horley caterer there has recently been amplified interest in the specifics of our machines. We have a fine selection of cooking machinery; each piece of apparatus has gone through a thorough evolution process towards perfecting our design. Aside from the wheels and glass pane just about everything is forged from sturdy stainless steel. This shiny material has been designed for frequent use in trying weather, so you need not worry about it wilting from the cold or a gust of wind!
Best Hog Roasts In Horley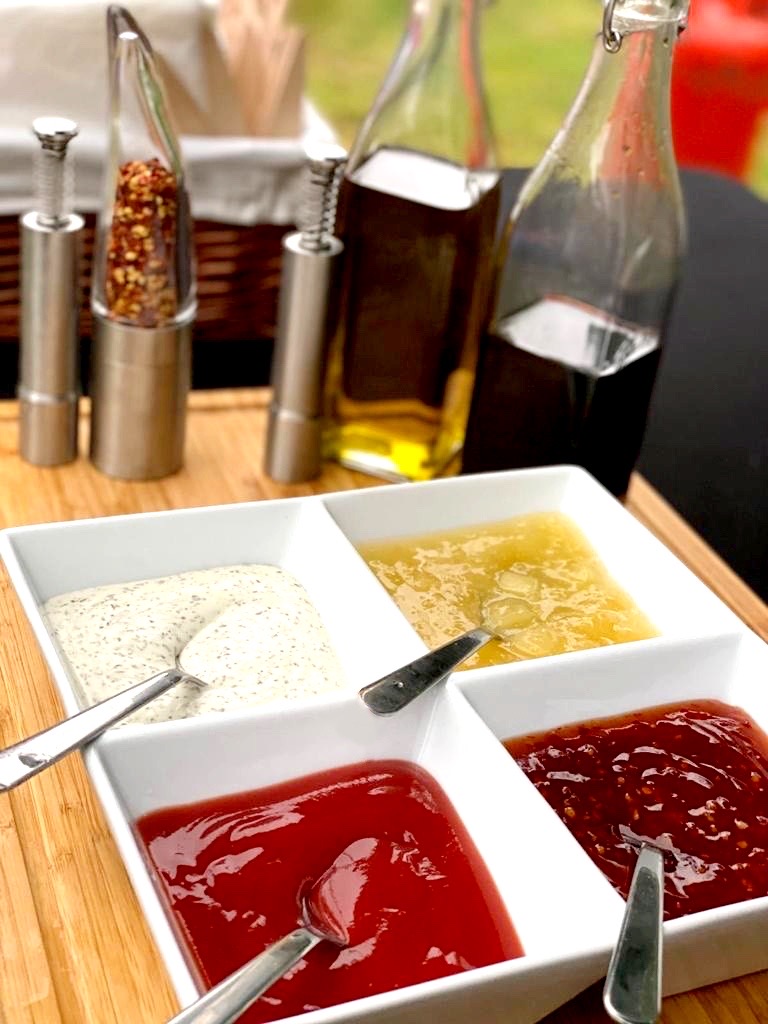 Corporate events can be extremely fun but exhausting to work at. But if we're tired after an event we take that as a sign we worked hard throughout the day in making sure that the event was perfect down to the very last detail. Formal sit down event require nothing more than the upmost professionalism towards your catering experience. The tables were set out beautifully for the event which saw us cater for 120 guests. They opted for a complex but extremely incredible menu consisting of 4 Canapés to be served to guests as they arrived which were handmade gourmet sausages, mini cheese and tomato pizzas, Pate encroute and Peking duck wraps.
Once everyone had arrived and were shown to their seats by our staff we began to serve drinks and the starter of the finest smoked salmon accompanied by prawns and avocado served on a bed of curly endrive with mustard and dill dressing. We allow a good twenty minutes to go by before collecting plate and serving the main with was a choice of either spit roasted Pig served with apple sauce, stuffing & crispy crackling or spit roasted Sirloin of Beef served with horseradish sauce, Yorkshire puddings and homemade red wine gravy; both served with a choice of freshly prepared salads and some new potatoes roasted with sea salt and rosemary. We kept appearing at the tables to make sure everybody had enough drink and that they were enjoying their food. Once all the guests were finished we served our lovely desserts; chocolate torte and a fresh fruit salad. Tea and fresh coffee were brought to all the tables with some mints as the meal drew to a close. We cleared all the rubbish off the tables and took it with us as we left the venue for the party goers to celebrate way into the night.
We love delivering hog roasting in Horley, and not only because of the delicious food. Horley is one of our little delights. Situated on the River, it's perfect for fly fishing surrounded by historic river villages, and carrying all of the delights that small villages can offer. Horley is the perfect place to eat some gorgeous food.
Horley is the main town in the Borough, and is surrounded by historic river villages and a green residential belt, making is a luscious place to visit or live in. Whether you've had a day or shopping, a day working hard in the office, or have something big to celebrate, hog roast hire Horley is the perfect way to end your day. We can cater for parties, weddings, corporate events or just those special occasions when you want your guests to be full of delicious food by the end of the night. Hog roasting is our speciality, but if hog isn't for you, we can cook anything from beef, lamb, chicken or turkey to perfection, and we offer tasty alternatives for vegetarians. If you've seen us cook and fancy a spot of it yourself, we can supply hog roasting machines. Have fun whilst learning how to cook some of our delicious meats, or supply your own meats and learn how to cook them to perfection.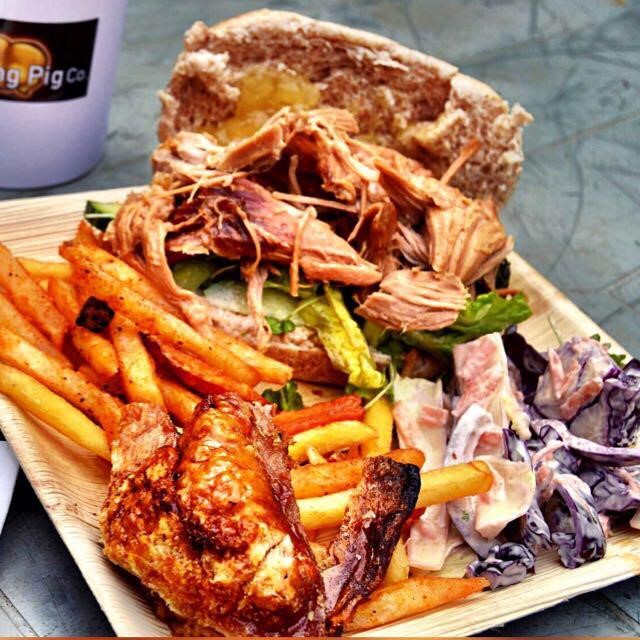 Our customers in Horley love our hog roasts because we deliver the best service, with friendly food, and most importantly mouth-watering food. We can serve a sit down meal and your special event when you want to impress, or provide a buffet service where your guest can help themselves to a selection of our finest ingredients. Of course we don't just serve the meat. Alongside our vegetarian options we supply the fresh bread rolls, the apple sauce and any condiments or salads your heart desires. We supply hog roasting in Horley to the highest standards, and that's why our customers love us.
So relax in the knowledge that you are safe hands with our hog roast hire in Horley. No other service is like ours. We love catering for hog roast in Horley and our customers always have a smile when we turn up to their special occasions with something that we know that all of their guests want. Whether you want to hire a hog roasting machine and create the magic yourself, or let our talent chefs cook and serve the feast for you, hog roast Horley are the ones to ask.